Black Friday Special
25th to Dec 2
800-544-5858
Speak with an Expert in Industrial Sewing Machines Parts And Repair
Have a problem with your sewing machine?

Ask the Industrial Sewing Machine Man!
Industrial Sewing Machines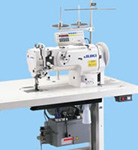 SPECIAL!

Juki DNU-1541
Walking foot needle-feed machine
High-speed performance increases productivity
Product made in Japan
Rectangular feed
Alternating vertical movement mechanism
With power stand
Free box of 100 needles
$1425 Complete WOW!
FREE Shipping
COBRA Leather Sewing Machines & Techsew Model 5100E
Call for Info
(48 US States Only)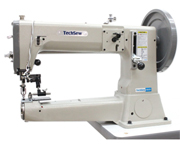 Techsew 5100-SE
Triple Feed - Walking Foot (needle feed + alternating presser feet + bottom feed)
1" Presser foot clearance
Sews from 6oz all the way up to 7/8" thick
16.5" Cylinder bed
Stainless steel presser feet
Equipped with Techsew SmartServo-NP motor and speed reducer to sew at slow & controlled speeds - great for novice, intermediate and professional sewers
Reverse stitch - for reinforcing stitches
12 inch heavy duty flywheel
Reinforced steel pedestal style table with adjustable height (sew standing up or sitting down)
Includes: Complete table with casters, SmartServo-NP motor, speed reducer,TS-28 LED lamp, TS-5 LED stitch light, TLG laser guide, swing down roller guide, flatbed table attachment, 3 pkgs of Organ diamond point needles,10 bobbins,
Stitch length adjustment up to 11mm (7/16")
Uses thread sizes 69 to 415
Uses needle sizes 18 to 27
FREE setup & instructional DVD included
Includes Limited Lifetime Warranty and FREE technical support for the life of your machine
Machine comes pre-threaded, oiled, adjusted and READY TO SEW
Industrial Sewing Machine Parts

Specializing
in Hard-to-find Parts!
all parts we sell are Genuine or Made to original manufactures Specification
Ironing Equipment and Supplies