800-544-5858
Speak with an Expert in Industrial Sewing Mchines Parts And Repair
Have a problem with your sewing machine?

Ask the Industrial Sewing Machine Man!
Industrial Sewing Machines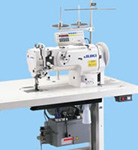 SPECIAL!

Juki DNU-1541
Walking foot needle-feed machine
High-speed performance increases productivity
Product made in Japan
Rectangular feed
Alternating vertical movement mechanism
With power stand
Free box of 100 needles
$1500 Complete WOW!
Household Sewing Machines

Portable Upholstery

Machines
Techsew 611 PRO Portable
Designed for sewing lightweight leather, canvas, vinyl, sunbrella, denim, synthetic materials
Powerul walking foot feeding mechanism
Sews a ZigZag or regular straight stitch
Convenient carrying handle
Sews up to 1/4" material thickness
Free shipping
$599 Complete

Juki DDL-9000C FMS
Direct-drive, Programmable high-speed, automatic thread trimmer $2,150.00 complete
JUKI launches the new "direct-drive, high-speed, lockstitch sewing system with automatic thread trimmer" DDL-9000CF.
This is the newest flagship lockstitch machine.
Digitalized vertically- and horizontally-driven feed mechanism allows easy adjustment of settings such as the feed locus only on the operation panel according to the material to be sewn.
JUKI has digitalized the drive mechanism of the sewing machine which determines the "seam" quality
Thanks to the digitalization, Optimum adjustment values required to produce high-quality seams can be stored, on a material-by-material basis, in memory and can be reproduced with ease.
Program transferable on android NFC system
Industrial Sewing Machine Parts

Specializing
in Hard-to-find Parts!
all parts we sell are Genuine or Made to original manufactures Specification
Ironing Equipment and Supplies