800-544-5858
Speak with an Expert in Industrial Sewing Mchines Parts And Repair
Have a problem with your sewing machine?

Ask the Industrial Sewing Machine Man!
Industrial Sewing Machines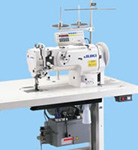 SPECIAL!

Juki DNU-1541
Walking foot needle-feed machine
High-speed performance increases productivity
Product made in Japan
Rectangular feed
Alternating vertical movement mechanism
With power stand
Free box of 100 needles
$1425 Complete WOW!
FREE Shipping
COBRA Leather Sewing Machines
Call for Info
(48 US States Only)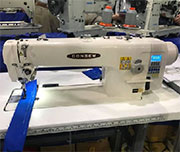 Consew 2206RB-14-7-DD
Fully automated Walking Foot Machine

$1,790.00

complete
Direct Drive Motor (no belt connection required)
Fully automatic functions including automatic electric foot lift
Automatic lubrication system
Large bobbin and horizontal axis hook (side load)
Compound feed, walking foot with alternating presser feet
Built-in adjustment for changing step height between inside and outside presser feet
Stitch Type : 301
New: Presser feet connecting rod which allows for presser feet to alternate more efficiently
New: Top thread electric clamping system for trimming
Built-in bobbin winder
Locking stitch regulator
Safety-type handwheel
Stitch length indicator on outside of machine
All sizes of cording feet available
Standard presser feet fittings
Standard attachments easily installed
comes complete with power stand
Industrial Sewing Machine Parts

Specializing
in Hard-to-find Parts!
all parts we sell are Genuine or Made to original manufactures Specification
Ironing Equipment and Supplies