800-544-5858
Speak with an Expert in Industrial Sewing Machines Parts And Repair
Have a problem with your sewing machine?

Ask the Industrial Sewing Machine Man!
To help our Consumers in this time of crisis. We will be shipping our home and industrial sewing machines at no charge when we can Feel free to call us
Techsew 5100-SE & Cobra Machines
Cobra COBRA Class 4-P Premium Package
FREE Shipping
Cobra COBRA Class 4-P Premium Package
Call for Info
(48 US States Only)
Cobra COBRA Class 4-P Premium Package
Features
16 ½ " Cylinder Arm
Sews from 6 oz. to 7/8?
Thread sizes from 69 to 415
Triple Feed mechanism
Built in bobbin winder
Reverse stitches in same holes
Stitch Length from 3-22 stitches an inch
Sews pads, blankets,webbing, canvas, bio-plastics, upholstery, etc…
28 LED Super Beam Lamp
Thread Stand
Heavy Duty pedestal stand with locking casters
Variable Speed Digital DC Servo Motor
Heavy Duty Speed Reducer
Left Toe Presser Foot $75*
Open Toe Center Foot $65*
Double Toe Presser Foot $80*
Right Toe Presser Foot $75*
Work Platform $95*
Ten Size 25 7X4 Leather Point Needles $10*
Ten Size 24 7X4 Leather Point Needles $10*
Ten Size 23 7X4 Leather Point Needles $10*
One 8 Ounce Spool of Thread $15*
Holster Plate $156*
Stirrup Plate $156*
Slotted Plate $85*
Blanket Set (Inside & Outside Feet w/ Feed Dog) $150*
Heavy Duty Roller Edge Guide $95*
Pair of Thread Nippers $2*
LDA-1 Magnetic LED Light $20*
Oil and tool package Four bobbins
Instructional DVD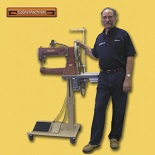 Cobra COBRA Class 4-P Premium Package
Price only $3,395.00
Free Shipping 48 Us States
The COBRA Class 4 comes with a heavy-duty pedestal style stand with locking caster wheels, a variable speed digital DC servo motor, model SR2 heavy-duty ball-bearing speed reducer, thread stand, ten extra needles, four bobbins, tools, and oil. An Instructional DVD and parts manuals are also included.
Techsew 5100-SE
Triple Feed - Walking Foot (needle feed + alternating presser feet + bottom feed)
1" Presser foot clearance
Sews from 6oz all the way up to 7/8" thick
16.5" Cylinder bed
Stainless steel presser feet
Equipped with Techsew SmartServo-NP motor and speed reducer to sew at slow & controlled speeds - great for novice, intermediate and professional sewers
Reverse stitch - for reinforcing stitches
12 inch heavy duty flywheel
Reinforced steel pedestal style table with adjustable height (sew standing up or sitting down)
Includes: Complete table with casters, SmartServo-NP motor, speed reducer,TS-28 LED lamp, TS-5 LED stitch light, TLG laser guide, swing down roller guide, flatbed table attachment, 3 pkgs of Organ diamond point needles,10 bobbins,
Stitch length adjustment up to 11mm (7/16")
Uses thread sizes 69 to 415
Uses needle sizes 18 to 27
FREE setup & instructional DVD included
Includes Limited Lifetime Warranty and FREE technical support for the life of your machine
Machine comes pre-threaded, oiled, adjusted and READY TO SEW

Industrial Sewing Machine Parts

Specializing
in Hard-to-find Parts!
all parts we sell are Genuine or Made to original manufactures Specification
Ironing Equipment and Supplies